Everybody now for XR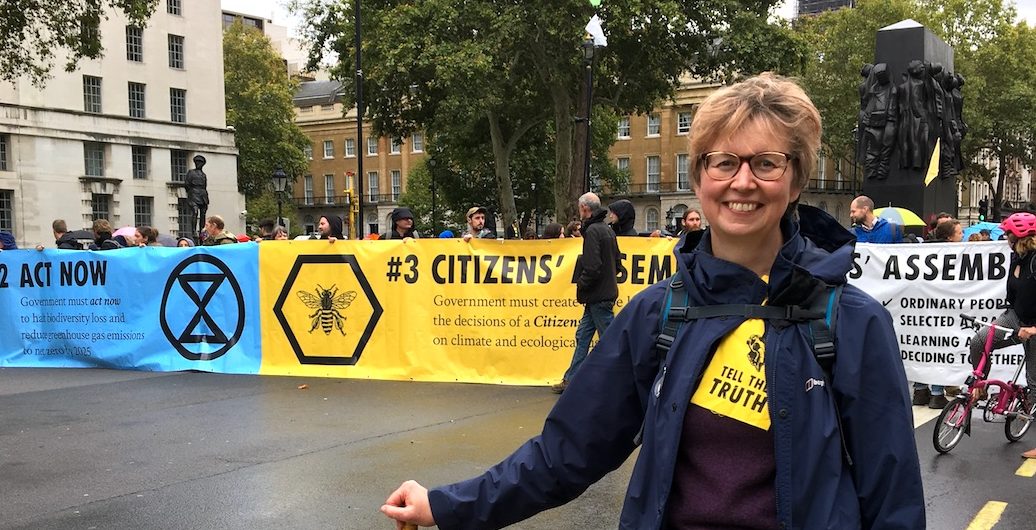 I've just returned from the Extinction Rebellion (XR) protests in London. Go if you can, you'll regret staying at home. Don't be afraid.
Yes, it is a very intense, fluid situation. When you get there, you'll probably end up doing something different from what you planned. You might be swept up by a samba band, waylaid in conversation by other rebels, or distracted by the art. Someone you've never met before will offer you a meal cooked at a street kitchen – ten to one it will be vegan curry.
Before you know it you'll be roped in to help with something, perhaps moving items for the welfare tent or handing out leaflets. You'll want to support XR "arrestables", either by being one yourself or joining the other rebels singing and chanting around them. You'll hear of lots of events happening that you want to be part of. It might be tree planting, a meditation session, or protests at specific sites, like when Animal Rebellion occupied Smithfield Market or Youth XR demonstrated outside the Department for Education. No doubt you'll be part of a people's assembly and add your voice to the shaping of events.
Love, despair, hope, grief
Whatever happens, expect to be overwhelmed by emotions – love, despair, hope, grief. It's very unlikely though that you'll feel unsafe or threatened by the crowd. Scared, maybe, at times because it takes courage to stand up in the hard face of officialdom. And to stand out and even be abused by some – after all, you'll be one of Johnson's "uncooperative crusties". Like me, you might not want to be arrested and you might be anxious about police tactics. All I can say is that there is so much scrutiny of the police that they are being careful how they act, and that is keeping tensions down. Yes, at times they are rougher than they were at the April demonstrations. That's due to misguided political pressure to be decisive and "clear the streets". They have had their orders from above and they are following them.
But our ethos of non-violence is so strong that we're not seeing aggro kick off. Police have been surrounding big groups and sites and not letting anyone in while they make arrests, but those who wish to leave the site or group have been allowed to go without arrest. They are taking our belongings but they are not kettling us in the old sense or charging at us with riot gear. I am not aware of anyone being arrested who did not want to be. It's best to travel light and bring as little as you can.
Go. You don't have to go for long. We need you there now. We all look after each other.
Don't look back and say "I wish I went". Act now!