Bridport Times article about Red Sixty Seven book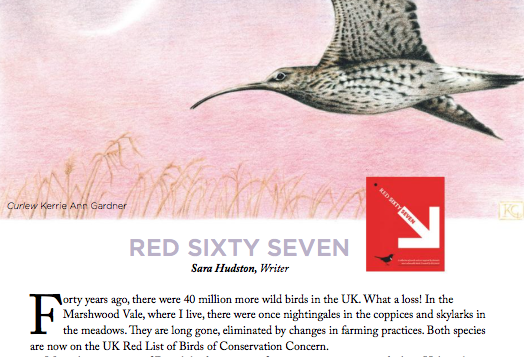 Forty years ago, there were 40 million more wild birds in the UK. What a loss! In the Marshwood Vale, where I live, there were once nightingales in the coppices and skylarks in the meadows. They are long gone, eliminated by changes in farming practices. Both species are now on the UK Red List of Birds of Conservation Concern.
More than a quarter of British bird species are facing extinction or steep decline. Habitat loss, pesticide use and the increasingly chaotic climate are the chief causes. RSPB research shows that by 1990 we had lost half the population of our farmland birds. By 2010 it had halved again.
Are you one of the few people still reading this? It's understandable if you want to give up and turn away in despair. The temptation to ignore the environmental crisis often sends me scurrying to the Pursuit of Hoppiness to hunker down with my friends. You see, I've got solastalgia, and yes, it's painful.
Solastalgia is the distress caused by environmental change in places you know well. Australian philosopher Glenn Albrecht coined the word to describe "the homesickness you have when still at home".
In my writing, I pay close attention to the landscape and living world around Bridport, so I notice what's happening. It's not a separate world from us – we are part of a community that includes all the beings in the area, the human and more than human. That means not only the big, obvious creatures like foxes, oak trees or ravens, but also the tiny, squishy things; the fungi, lichens and insects. I'm particularly fond of toads – have you ever looked into the burning bronze of a toad's eye?
There are so many people around here who see nature in a similar way, and lots of them are incredibly knowledgeable. I think Bridport is in the vanguard of a profound cultural and psychological shift.
Significantly, Bridport was one of the first places in the country to form an Extinction Rebellion (XR) group. XR Bridport started in late autumn 2018 and held a Rebellion Day in the town in March last year, before the big protests started in London. I'm part of XR and in the last year I've been out demonstrating. While XR and the Fridays for Future youth strikes have done an amazing job in pushing environmental issues on to the political agenda, nothing has changed.
And with that thought, despair kicks in again. There is so much to do and so little we can influence. It may be too late. Perhaps our task is to live with that knowledge, to save what we can and memorise what we are losing, so at least we can take the stories and images with us. That's one reason I was so keen to contribute to the Red Sixty Seven book.
This wonderful project was created by birder Kit Jewitt from Northumberland. He asked 67 writers and 67 artists to each choose one of the 67 red-listed bird species and produce new pieces of work. Contributors gave their work for free and all of the profits are being donated to the British Trust for Ornithology and the RSPB to further their work with UK Red-listed birds.
I chose to write about the cirl bunting, a rare South West species that's only found on the Torbay coast and a few Cornish sites. The cirl bunting offers hope as well as despair. Conservation projects by the RSPB and local landowners mean there are now more than 1,000 breeding pairs, up from only 118 in 1989. That's wonderful. On the other hand, this used to be one of the commonest birds in the country, seen everywhere from Cornwall to Cumbria, even in towns.
Numbers started declining from the 1930s, plunging in the 1970s. Modern farming methods caused this devastation by eradicating weedy winter stubbles and grasshopper-rich summer meadows. Cirls were especially vulnerable to the changes because they weren't able to expand their foraging range. Pairs spend their lives in one small zone, moving no more than a mile between breeding and wintering areas. They are dependent on the features of a specific place: this hedge, that meadow.
Reduce the land's diversity and you lose not only the cirl bunting but also other birds, mammals, reptiles, amphibians, plants and insects, all connected in a web of belonging. Some of these creatures may be able to adapt, or go elsewhere. Many cannot. Seen this way, cirl bunting are more than an avian species. They are fugitive spirits of place, emblems of a lost genius loci that we have un-homed from its haunts.
Perhaps the lesson of the cirl bunting is to do all we can for everyone in our communities, human and more than human, and try to live together without mirages of hope, or despair.
About the book
Red Sixty Seven costs £19.99 and can be ordered direct from the BTO by visiting the Red Sixty Seven shop on www.bto.org
This article was written in February 2020 and published in the Bridport Times in March 2020.