Exmoor ponies gathered from the moor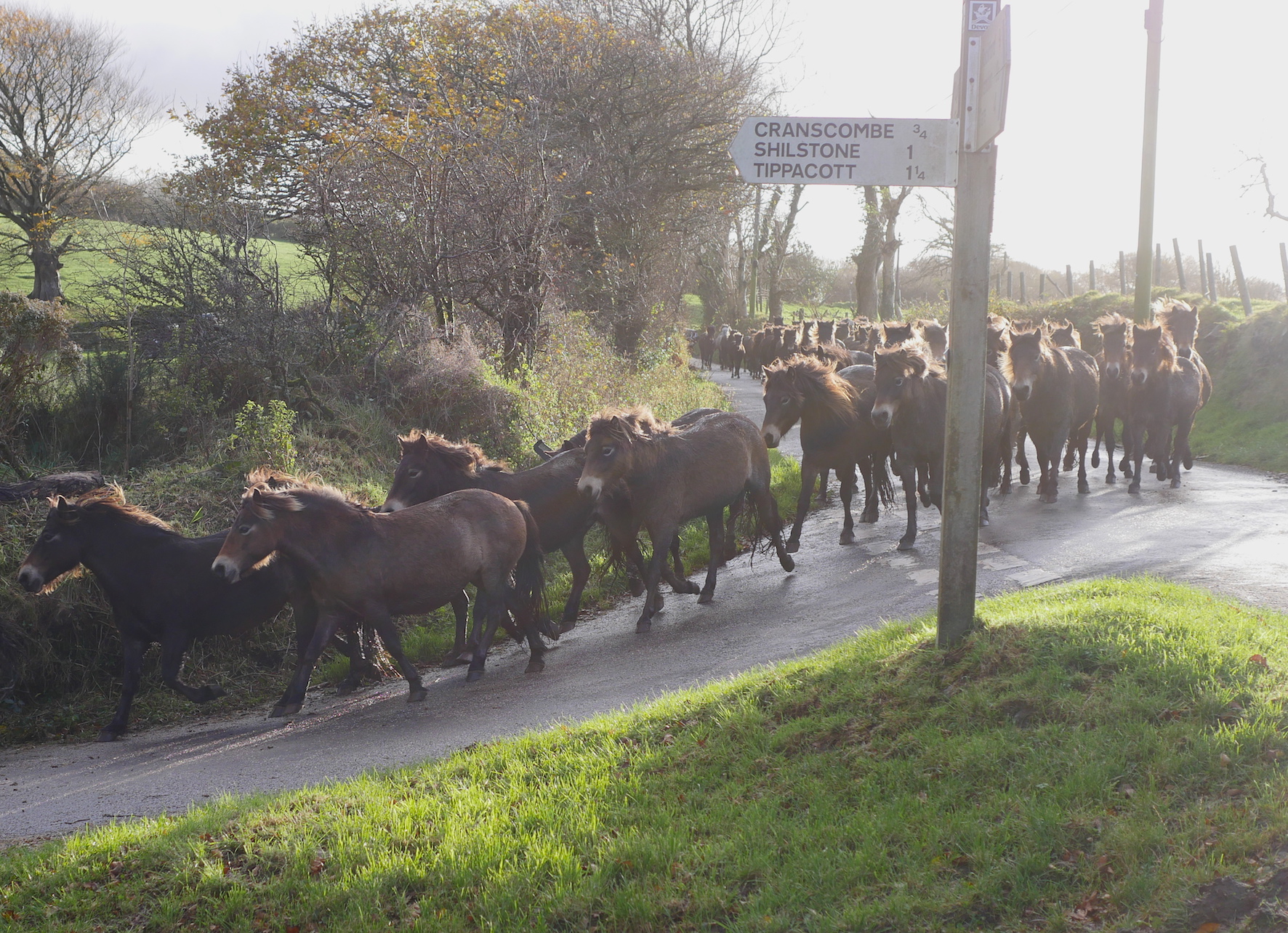 A wild ride on Exmoor: A Guardian Country Diary piece on gathering the Tippbarlake Herd of Exmoor ponies. You can read the piece here on the Guardian's website.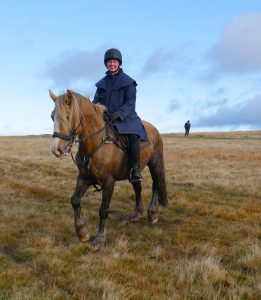 When the first of the herd appeared on the horizon over Withycombe Ridge, the horse I was riding began to tremble. Excitement pulsed up the reins and I could feel his heartbeat thumping through the saddle. He stared transfixed, head high, pink nostrils flared, as the feral ponies flickered into view, their dark brown coats almost plum coloured next to the dun moorland. They came closer, flowing down the hillside and splashing through the tiny ford at Lank Combe. We could see the light, mealy-coloured patches marking out their eyes and muzzles. This colouring is a distinct feature of the Exmoor pony, Britain's oldest native pony breed.
The ponies have been part of Exmoor's bleak uplands for hundreds, probably thousands, of years. They live as separate herds, free-grazing but 'leared' to particular areas. At the traditional autumn gatherings, they are brought down to farms to be checked and the foals sold.
As we spread out across Brendon Common for the Tippbarlake Herd gathering, the sky turned pewter and a strong north wind flung stinging, horizontal hail that salted the heather with melting ice. The ground, already sodden from a wet summer, filled with glinting, gunmetal pools.
Ponies started coming in from all directions and quad bikes roared and jumped in pursuit. A crafty mare broke away from the herd, taking a group with her, and we cantered alongside, yelling, hoping to turn them back. The mare extended her pace, leading her band across a small, rocky gully, forcing us to slow down, enabling them to escape. Our horses were fired with adrenalin, dancing and plunging on the spot, eager to follow. My mount, Fudge, forgot his sedate day-job as a trekking pony and arched his neck like a rocking-horse or cavalry charger, furry ears prickled sharply forwards.
Once the ponies were collected together in a gaggle of about 60, we drove them jostling down the lane to Brendon Barton farm and into a big pen. Time for the riders and bikers to warm themselves with port and slabs of homemade cake. While we relaxed, the ponies circled warily at the far end of their enclosure, waiting to return to the moor.