Join me for a journey of discovery, filled with story and laughter, words and silence. Let the landscape speak to you. Walking West is for writers, artists and anyone interested in creativity.
On our way we'll meet people with special insight into where we walk; archaeologists, naturalists, farmers and artists. There will be books to read and discuss, a sharing of knowledge, friendship and ideas.
We'll stay in comfortable, characterful, independently-owned hotels and eat excellent local food. Each journey lasts six nights and we walk for five days.
Walking West journeys for 2019
I'm now taking registrations of interest for two journeys in 2019. These will explore the deep spirit of place in Dorset and Exmoor (outline details below). Places are limited for each journey, so please email me as soon as possible if you are interested in hearing more: register@walkingwest.co.uk
Exmoor: Mystics and hermits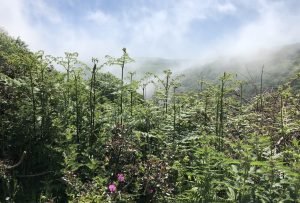 'A savage place! as holy and enchanted
As e'er beneath a waning moon was haunted'
Something happened to Samuel Taylor Coleridge when he stopped in the ancient, holy woods of Culbone. A poem came to him in a vision. Over 200 years later that poem, Kubla Khan, still entrances readers. Go to Culbone and you'll find that the place itself has an extraordinary presence.
Many attribute Coleridge's inspiration to the opium he took.  I'm more inclined to think that Culbone's 'numen' was so powerful that he took opium to dull his senses down to a level he could cope with.
Coleridge wasn't the only person to become intoxicated by Culbone. More recently it was home to the Californian-born Joan D'Arcy Cooper, a yoga teacher, psychologist and Christian mystic. Cooper felt the energies of place and made them the focus of her meditation practice.
This journey is a chance to explore Exmoor's intense genuis loci. We'll look at the moor through the eyes of those it has enchanted, in particular Hope Bourne, the reclusive writer, conservationist and original 1970s 'wild woman'. Hope lived alone in a series of remote locations, most notably a ramshackle caravan near Withypool. She cast off the aspirations of modern industrial living and survived largely without money, existing on what she could grow or hunt.
Dorset: Saints and Sybils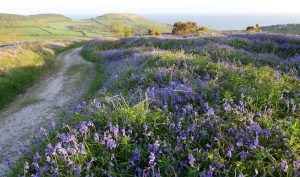 We begin in the far west of Dorset, by the sea. Our destination on the first day's walking is the shrine of St Wite, once a major place of pilgrimage, second only to Canterbury for healing. It's the only saint's shrine left in an English parish church. (See my piece with video about St Wite, goddess of Dorset, here on Sharon Blackie's The Hedge School blog).
St Wite herself is a bit of a mystery. Local legend says she was a Saxon hermit who lived on the cliffs and guided ships to safety. She was martyred by Vikings in a raid in the 9th century. But there's more to her than that – her associations with the Marshwood Vale reach back to a pre-Christian healing goddess of springs and wells.
From the shrine we journey east and inland, through a hidden Dorset landscape of holloways and sacred monuments. The way takes us into the woods – literally and metaphorically – and up to the high chalk of one of England's most significant ritual landscapes. The South Dorset Ridgeway is on a par with Avebury and Stonehenge in terms of the incomparable density of prehistoric remains. The past is very close here –  this is a landscape marked by 6,000 years of continuous human occupation.
Our end-point is the quiet village of East Chaldon, folded in the Purbeck downs near the sea. We'll end our pilgrimage by visiting the churchyard where the writer Sylvia Townsend Warner and her love, the poet Valentine Ackland, are buried. (See my piece about Sylvia here).